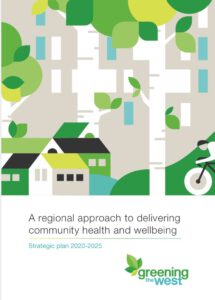 The next Greening The West Strategy (2020-25) is soon to be published and will be launched post current COVID restrictions and will guide the steering committee for the next five years.
This next phase of Greening The West is a template supporting community health and will promote liveability through urban greening initiatives and will collaborate with multiple stakeholders to continue supporting greener outcomes including:
To maximise urban greening to improve liveability and connectivity across Melbourne's west;
Delivering water projects supporting quality green open spaces utilising alternative  stormwater/recycled water supplies to demonstrate an integrated, sustainable approach to water;
Increase adaptation to a changing climate, supporting urban cooling initiatives to mitigate extreme heatwave events and improve community general health and wellbeing;
Continue to educate and connect and encourage community support and participation;
Support quality urban design and encourage green infrustructure outcomes.
Seek funding opportunities through collaborative partnerships
Advocate for policy and institutional change.
We are all very proud of Greening The West in the achievements since launching in 2013 and we are looking forward to the next five years to support and greener, healthier and more healthier west.