Regional Development Australia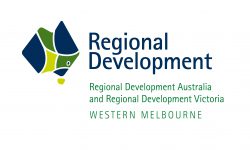 The Western Melbourne Regional Development Australia (WMRDA) Committee builds partnerships betweens all levels of government, local business, community groups and key regional stakeholders. These affiliations enable WMRDA to provide strategic and targeted responses to economic, environmental and social issues affecting Melbourne's West.
Why we support Greening the West
WMRDA advocates for the development of a sustainable growth strategy for the region as it faces the challenges of climate change and population growth. It supports Greening the West in creating new opportunities that bring social, environmental and economic benefits to the community.