Global Gardens of Peace Incorporated (GGoP) was founded by patron Moira Kelly AO in April 2013. GGoP is a global charity based in Australia, with a mission to develop a global network of green landscapes for children and their families in areas of the world devastated by conflict, natural or economic disaster and cultural hardship.  GGoP is an apolitical, non-religious organisation, and is committed to effective and peaceful collaborations with all people regardless of nationality, race or gender.
The inaugural GGoP project being developed is located at Khan Younis, Gaza Strip. While backed by research, there is slowly increasing recognition that better access and exposure to green space meets vital psychological needs in human development, and is a valued component in humanitarian care. Like many other urban environments, the Gaza Strip is desperately in need of green open space and this is exacerbated by one of the highest population densities in the world (4,900 persons/km2.). Trauma from conflict also adds to the psychological burden with a child at current Grade One level in the Gaza Strip experiencing three wars.
On the most recent visit in May 2015, a GGoP delegation met with current and future supporters in Israel, West Bank and Gaza Strip. In Israel, they met with staff from Tel Aviv University Botanical Garden and Jerusalem Botanic Garden who have written letters of support for the project, and have also agreed to assist with technical matters such as plant selection.  At the Khan Younis municipality, Gaza Strip, the GGoP team met with a range of people from Universities (technical support), Khan Younis municipality staff and Non-Government Organisations (NGO's). The project concept design was successfully launched with presentations from Royal Botanic Gardens Victoria Landscape Architect, Andrew Laidlaw, Moira Kelly, the Mayor of Khan Younis and supporting NGO's. Attending the launch, were a wide range of people from NGO's, Universities, Khan Younis staff, and children and families who have been consulted on the design. Whilst in the West Bank, the project team met with Dr Rami Hamdallah, Prime Minister, Palestinian Authority who was impressed with the concept plan, and has since released a media statement affirming his support for the project. He will also write to the Australian Government asking for their support.
Overall, GGoP received overwhelming verbal endorsements from a variety of NGO's (including agencies such as United Nations Development Program) which has reinforced the desire to bring this project to fruition.
Greening the West recognises the value of green spaces of peace and wellbeing within Australia and internationally, and has agreed to provide technical support to Global Gardens of Peace in fulfilling its mission. For those who wish to get involved, this is a rousing leadership role for an outreach of Australian expertise in developing urban green space throughout the world.
For more information visit: globalgardensofpeace.org or email enquiries@globalgardensofpeace.org
Thank you to Peter Symes for this article and images.
Children playing next to the street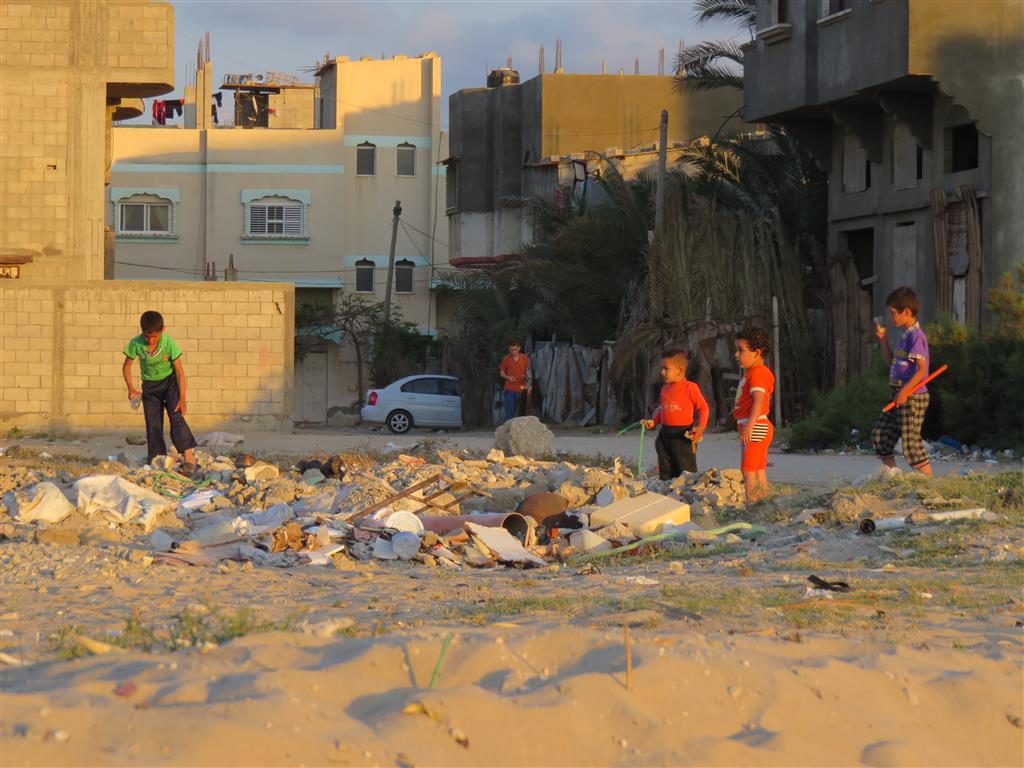 Commemorative Palm planting after Project Design Launch