Our guest contributor Caroline Hardy of the Southampton Park Residents Group shares her story and tips for bringing about a community green space.
On February 20, Maribyrnong Council's Deputy Mayor, Catherine Cumming, officially opened Southampton Park: Stage 1.
Approximately 45 local residents turned up to enjoy a coffee and morning tea provided by the Council, and celebrate this new community park which includes a playground, bird boxes, lots of green grass and areas to sit and just relax.
Situated at the bottom of Swan and Southampton Streets, Footscray (the back of Western Hospital), Southampton Park: Stage 1 is sitting on what was the Maribyrnong Council depot visitor's car park. The depot itself was demolished in 2012.
But perhaps I should take a couple of steps back, as I'm starting with the happy outcome, and tell you about the hard work that preceded this well-earned celebration.
Background
In late January 2013, residents in Swan and Southampton Streets were notified by Council that our streets were about to be used as entry and exit points for a busy new, Council run, Western Hospital car park.
The community reaction was swift and loud. In February 2013, a very angry group of residents outlined their concerns in a meeting with Council representatives.
Soon after this meeting, Council decided against using our quiet, virtually one-way streets for accessing the car park.
Good news, but what about the asphalt jungle?
We were happy with Council's decision but, with the removal of the old brick depot, our community was now left with a huge, ugly expanse of asphalt.
While we had no issue with Council addressing the obvious lack of parking for Western Hospital visitors and staff, we recognised that there was an opportunity also (as Council actually owns the land outright) for some of the land to be used to create open/green space for the community.
In February 2013, Council asked if some of the residents wanted to volunteer to form a residents group, to liaise with them going forward. I put up my hand, along with six other residents.
The Southampton Park Residents Group (as we became known) attended regular meetings with Council. We also made sure we were represented at the scheduled Maribyrnong Council meetings whenever the new Western Hospital car park and proposed open/green space was on the agenda. We also spent many hours communicating with the Council via email and letters.
Two and a half years later, in the 2015/16 budget, Maribyrnong Council definitely committed to the 'Stage 1' park being built on the land of the Council depot visitor's car park.
In relation to 'Stage 2', where it is proposed that the Western Hospital car park land adjacent to the Stage 1 park will be given to the community for open/green space, Council says, 'it requires further testing of the underlying former old landfill site before any design work can proceed'.
Lessons learnt
If you are involved in a community open/green space project, I'd like to share three pieces of advice, which I hope you will find helpful:
As cliché as it sounds, 'don't give up' – I believe one of the main reasons Southampton Park: Stage 1 exists today is because we demonstrated to Council we were totally committed and determined (and we weren't going away).
Always treat Council's with respect – we were always reasonable and respectful in our negotiations with Council and made an effort to understand their viewpoint.
Be patient – if you become involved in a project like this, you need to be prepared to put in the time and energy. It won't be easy, but when you stand in your actual new park or open space or community garden and hear children running around playing and having fun, on what was once a car park, it is so worth it!
Oh and, just so you know, the Southampton Park Resident's Group are now working on making Stage 2 a reality, so watch this space (what did I say about being determined).
By Caroline Hardy – a member of the Southampton Park Resident's Group. Find them on Facebook – 'Southampton Park'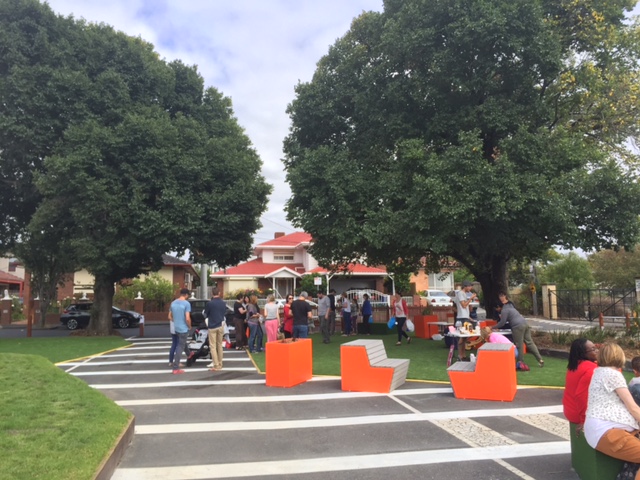 Image shows the park in full swing on opening day (credit: Darren Coughlan)