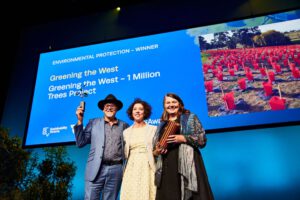 Greening the West received top honours at the Victorian Premier's Sustainability Awards for delivering an extensive program in successfully planting over one million additional trees across Melbourne's west.
This was as part of the GTW commitment to increase urban greening and continuing striving towards a healthier, greener and more liveable communities in Melbourne's growing west. The GTW-1MT project was awarded the Environmental Protection Award last year for its work in driving positive health and liveability outcomes by improving the quality of green open spaces.
Urban green spaces promote positive health and social outcomes, reducing exposure to air pollution and excessive heat. Thanks to Greening the West, these outcomes have been delivered in a region that experiences warmer daytime temperatures than other parts of Melbourne and boasts some of the fastest population growth in Australia. The project is a shining example of what can be achieved when local, state and federal governments work collaboratively with local communities.
Immediate benefits of the project include enhanced amenity of local open spaces, connecting the community to their local reserves and raising awareness of the benefits of trees and improving community physical and mental health and wellbeing by connecting people to outdoor spaces.
This project was funded $5M provided to LeadWest, from the Australian Government's National Landcare Program.
Between 2015 and 2018, 1,072,320 trees and shrubs were planted across 320 parks, reserves, open spaces, roadsides and private land, covering an area of 1755 hectares. Working together, 4500 volunteers, contractors and private landowners participating in 61 community events and tree planting days, to improve 320 parks, reserves, open spaces, roadsides and private land.