Wyndham City Council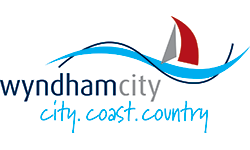 The City of Wyndham is in the outer south-western suburbs of Melbourne, between Melbourne and the regional city of Geelong. It spans 542 square kilometres and offers a diverse blend of city, coast, agricultural and country landscapes.
Rich in history and natural beauty, the City is home to world-class open space attractions such as Werribee Open Range Zoo, Victoria State Rose Garden and Point Cook Coastal Park. Its many bike and walk trails, wetlands and creeks showcase the natural beauty of the region and neighbourhood parks and sporting reserves provide recreational space for residents to enjoy.
Why we support Greening the West
Wyndham has experienced the largest and fastest growth in all Victoria and is the third fastest growing city in Australia. It's estimated residential population is set to exceed 245,000 by 2021.
This increase in population has put strain on the natural environment meaning that support and promotion of environmental and sustainability initiatives such as Greening the West is critical to creating a sustainable Wyndham. Council looks forward to preserving and enhancing green spaces for the benefit of current and future generations.
Our projects