Yarra City Council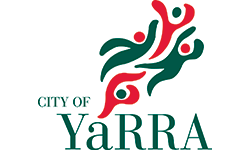 The City of Yarra was created in June 1994 following the Victorian Government's restructure of local government. The new municipality merged the former councils of Collingwood, Richmond, Fitzroy.  Southern parts of the former City of Northcote were also included in Yarra.
The Wurundjeri-william people of the Kulin Nation are the Traditional Owners of the land and Council recognises them as the custodians of the land's cultural heritage.
Yarra's suburbs have a rich history, reflected in the city's heritage buildings, natural and urban environment and its diverse community. Over decades, the former industrial focus has shifted to a more residential and retail mix as the population and demand for inner city living has increased and settlement intensified.
Yarra has more than 230 hectares of open space and is renowned for large historical gardens, particularly Edinburgh Gardens in North Fitzroy and Darling Gardens in Clifton Hill. The Merri and Darebin Creeks and Yarra River, which form the majority of Yarra's boundaries, have many open space reserves that are highly valued for their recreational and nature conservation values.
Why we support Greening the West
Yarra City Council supports Greening the West in its mission to deliver enhanced liveability to communities in its suburbs. It looks forward to collaborating on projects via Greening the West, and encouraging and enabling residents to become involved in improving the urban environment, addressing the need for greater climate resilience and lifting levels of liveability and community health.