Upper Stony Creek Wetlands
About the project
Upper Stony Creek Wetlands – Sunshine North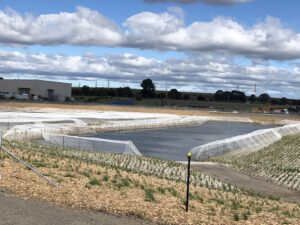 Upper Stony Creek in Sunshine North has been rejuvenated by transforming the Retarding Basin into a natural, revegetated wetland system adjoining Stony Creek with connected community spaces and a walking trail, providing liveability outcomes.
The wetlands and parkland are situated adjoining Stony Creek between Furlong Road and Gilmour Roads. Although the final scope of the Upper Stony Creek Project did not see the restoration of the concrete channel section, it has transformed the area into quality open space by connecting parklands and adding new wetlands along Gilmour Road.
It was co-funded by the Federal Government, Melbourne Water, Department Environment Land Water & Planning, City West Water, GreenFleet, Brimbank City Council, Development Victoria and supported by Greening The West. Works are expected to be completed by late 2020, and may, granted additional funding and collaboration, inspire further works upstream.